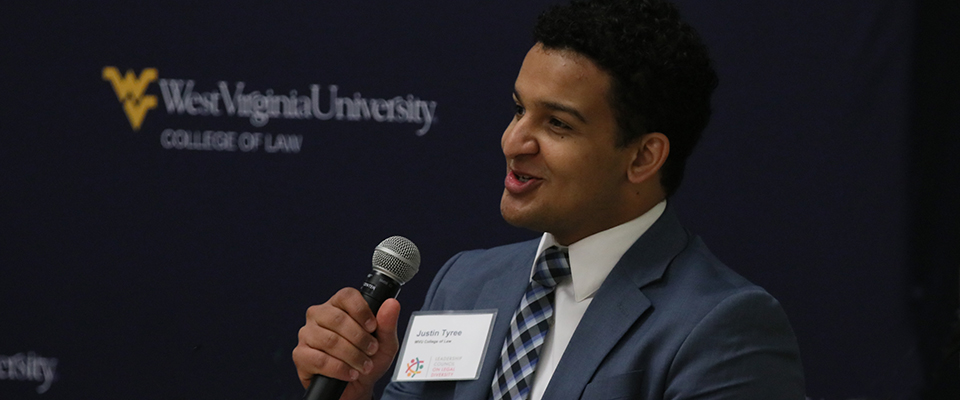 Justin Tyree speaking on a panel for the Leadership Council for Legal Diversity in 2019.
Justin Tyree has a goal to use his law degree to make the world a better place — and that is just what he is doing. 
Since graduating in May 2020, Tyree has moved to Omaha, Nebraska, to work for the Immigrant Legal Center. The ILC is Nebraska's largest immigration legal services nonprofit. It employs full-time licensed attorneys to provide high-quality legal services, education and advocacy to low-income immigrants.
At the ILC, Tyree provides legal assistance to clients in many types of immigration relief cases, including citizenship naturalization, asylum, and processing visas for victims of domestic abuse and human trafficking. He also represents clients in family court proceedings that are directly related to their immigration status.
"The ILC serves low-income individuals, which are often those in the most need of assistance," he said. "My role there gives me the opportunity to help people improve their lives on a daily basis."
While Tyree was in law school, he says that he had no plans of moving to the Midwest. However, he and his wife made the decision to relocate from Morgantown to Omaha after researching the area and talking with members of their professional, social and church networks.  
"Being an immigration attorney was always an option I considered in law school, given my background as a Spanish speaker," he said. "I had other opportunities I was pursuing during my 3L year, but COVID-19 greatly influenced my decision to pursue jobs in immigration law. I became much more open to employment opportunities in areas of the country that I had not previously considered."
At WVU Law, Tyree took advantage of opportunities to learn about two areas of immigration law: family and employment. Family-based immigration allows U.S. citizens and lawful permanent residents to sponsor their family members for a green card. Employment-based immigration involves obtaining a green card through employment in the United States.
Tyree helped serve clients with family-based immigration issues as a student attorney in WVU Law's Immigration Law Clinic, and he provided translation and interpretation services for the Clinic's Spanish- speaking clients.
During his time in the Immigration Law Clinic, Tyree and his fellow student attorneys helped obtain a favorable, precedential decision from the U.S. Court of Appeals for the Third Circuit on behalf of a client who fled persecution based on sexual orientation. In its decision, the Court acknowledged and thanked the Immigration Law Clinic for providing "skillful pro bono representation" of the petitioner.
In addition to the Immigration Clinic, Tyree worked on employment-based immigration issues during his externship as a law clerk for WVU  International Students and Scholars Services. Because he anticipated working in the public sector after graduation, Tyree also pursued a dual-degree J.D./Master of Public Administration at WVU Law.
Tyree took his passion for public service outside of the classroom, pursuing endeavors like volunteering for the Appalachian Prison Book Project and Church of Jesus Christ of Latter-day Saints. WVU Law awarded him a Pro Bono Distinction and a Community Service Award at graduation for his consistent service to the community.
"As a person of faith, I think it is essential to minister to those who experience great hardship," he said. "I believe I have a responsibility to try to improve the lives of others as much as possible."
---
Meet Justin Tyree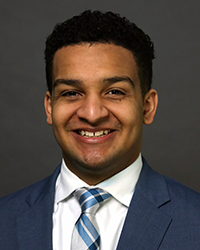 Tyree is from Saint Albans, West Virginia. At WVU Law, he was a Peer Writing Consultant in the Writing Center, an active member of Black Law Students Association, and the 1L Community Service Chair for Student Bar Association.
Prior to law school, Tyree worked as a Field Operations Manager for a political services company. He received a B.A. in History from Brigham Young University in 2015. He was awarded the W.E.B. DuBois Fellowship by West Virginia University to attend the College of Law.